How do different chocolates get their distinctive flavours? – Visitors to this year's Royal Society Summer Science exhibition in London (6-10 July) will be able to find out from University of Nottingham scientists who have been analysing the fermentation processes of cocoa to find out how microbes influence chocolate flavour.
Understanding the fermentation process, which is the chemical breakdown of a substance by bacteria, yeasts, or other microorganisms, is key to unlocking new flavours for chocolate makers and better prices for cocoa farmers.
Researchers from the University of Nottingham's Future Food Beacon have been examining the microbes present in fermentations, to better understand how flavours develop. They are working with an award-winning Nottingham based bean-to-bar chocolate maker and a group of Colombian female cocoa growers on a project that aims to get the best possible flavour and price from the cocoa they produce. 
The research is focussed on the fermentation of the freshly harvested beans – a process that takes place in wooden boxes before the beans leave the farm. Using state-of-the-art portable DNA sequencing devices to characterise the different types of yeast and bacteria involved in the fermentation process the research team wants to know how that drives the taste and flavour of premium chocolate.  
The team will be showcasing this research at the Summer Science exhibition with an interactive stand that will take visitors on a journey of chocolate, from tree to bar. Visitors can view videos of cocoa farms and growing areas, touch and feel real cocoa trees and pods – and create their own microbial prints using cocoa pods.
It's really exciting to be taking this research to the Summer Science Exhibition and showing visitors the science behind the chocolate they enjoy. We hope by sharing the work we've been doing in a fun and interactive way they will understand how different flavours develop and what a complex process it is to get chocolate from the tree to a finished product – and of course there will be plenty of chocolate to try too!
There will be wooden fermentation boxes with 'bacteria' for visitors to play with and live DNA sequencing demonstrated.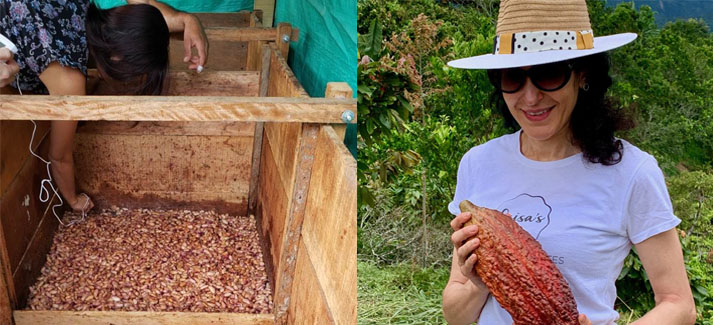 There will also be chocolate conching happening throughout the event, this is the process of intense mixing, agitating and aerating of liquid chocolate. Chocolate's produced by Luisa's Vegan Chocolates, from the project's farms in Colombia and from Trinidad, will be available for people to taste so they can experience the different chocolate flavours.
Luisa, Managing Director of Luisa's Vegan Chocolates comments: "It's been a fantastic experience to be involved in this research project. As an independent business I understand some of the challenges the cocoa farmers face and the need to ensure every product is of the highest quality and will meet the needs and tastes of the customer. I am also committed to ensuring the farmers get a good return on their product which is why this research project has been so important. I'm really looking forward to seeing people's reactions to the chocolate and finding out what they enjoy (or don't!)."
/Public Release. This material from the originating organization/author(s) may be of a point-in-time nature, edited for clarity, style and length. The views and opinions expressed are those of the author(s).View in full
here
.