"The pioneering idea of Yeda Research and Development – to commercialize the ideas of the Institute's scientists – was groundbreaking at the time, and it has proven itself over the years. Its major successes in pharmaceuticals have been impressive, but the world outside the academic one has changed greatly. That is why the Yeda model also needs to be updated."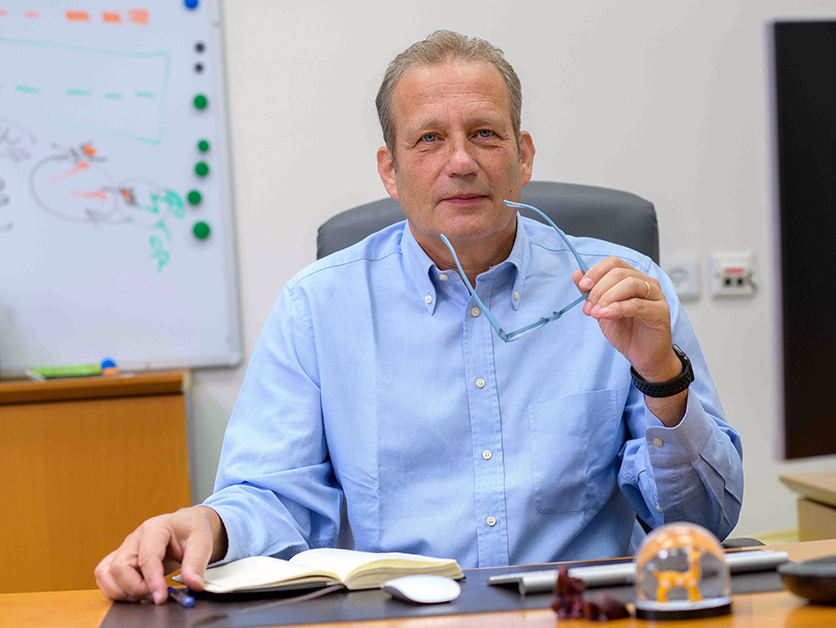 Dr. Opher Shapira, the new CEO of Yeda Research and Development Co., Ltd., the Weizmann Institute of Science's technology transfer arm, took office a few months into the epidemic that is crippling the global economy.
"It is not a trivial thing – joining a new organization when most of the work is being done from home, especially since I'm a proponent of face-to-face meetings. Instead of a round of visits to the world's leading intellectual property commercialization companies, I went on an intensive round of discussions on Zoom. Still, I have no cause to complain – I have work, and it's work that I enjoy."
Shapira, a manager and entrepreneur with more than 25 years of experience in the high-tech industry, has served in leading and founding positions in firms involved in areas ranging from computerized cancer diagnosis to alternative energy. Shapira obtained his PhD from Yale University, after which he shifted into the high-tech industry.
"I don't think what I do nowadays in Yeda is so different from what I've done throughout my career. It's also a form of entrepreneurship – we take an idea and see what can come out of it.
"What's changed for Yeda? First of all, the customers. The big companies no longer wait for scientists; rather, they are producing more of their innovation in-house. Many universities have developed close collaborations with industry, so there is intense competition for industry attention. But perhaps the most significant thing is that there is now much more money available, and that has changed the environment we operate in. The companies can say: Find an investor to develop the idea – we'll wait for it to be ready, and only then will we 'pick' it. In other words, they want to pay for the 'ripe' product and let someone else take the risk.
When you move a way of thinking and technology from one field to another, great things can happen
"Our research may bear fruit, but some of that fruit isn't ripe enough for our customers. How do you get the green bananas to turn yellow? The classic model is to sign licensing agreements, that is, to transfer the 'ripening' process out of the Institute. But you can't always find buyers for the green bananas. My approach is to explore the establishment of companies, in these cases, with the backing of venture capitalists. It is, after all, their business to take a starting initiative and grow it. Therefore, it is certainly one of my goals – to develop and deepen the ties with venture capital funds.
"We can't view the Institute as a single entity, and, as far as technology transfer is concerned, there are huge differences between, say, drug development and artificial intelligence. Among other things, we have to think of them as occurring within different time frames. Even if we were to discover, tomorrow morning, a molecule with the potential to be a block-buster treatment, by the time it goes on the market, it will take at least ten years. By that time, the drug company could go under and competitors could take advantage. Conversely, for software, artificial intelligence and information analysis, the time constraints are much shorter. In Yeda, we must tailor individual solutions for each field."
When there is no momentum – there is stagnation
"We also need to reach out to Institute scientists and let them know that they should involve Yeda way before they publish or present their ideas. The earlier they approach us, the better we can protect their invention. In some cases, we can identify a potential for invention that has been overlooked by the researcher.
"We must be constantly on the upswing. If there is no momentum, there is stagnation. If we wait for the perfect deal to fall into our laps, if we fight for another half a percent, we might end up losing. The shelf life of a patent is a ticking clock, so time is of the essence. Similarly, we need to learn how to let go of certain patents.
"Sometimes people confuse a groundbreaking idea with financial success. I've seen enough companies with great ideas that have failed and companies with mediocre ideas that have succeeded. Even a patent for a life-saving device will not always translate to production and sales.
"When I walk around the Institute, one of the things that strikes me the most is the great freedom that scientists have and the intermingling between the different areas of knowledge. This is critical to me: Many revolutions and the successful companies arise from those borders between areas of knowledge. When you move a way of thinking and technology from one field to another, great things can happen. This magic has been going on at the Institute, and it breeds incredibly innovative ideas. Let's make them commercial successes too."
/Public Release. This material comes from the originating organization and may be of a point-in-time nature, edited for clarity, style and length. View in full
here
.