The programme, coordinated by the ICFO, aims to develop technologies for the future quantum internet. In addition to the UAB, the IFAE, the ICN2, the UB and the UPC are participating in the programme.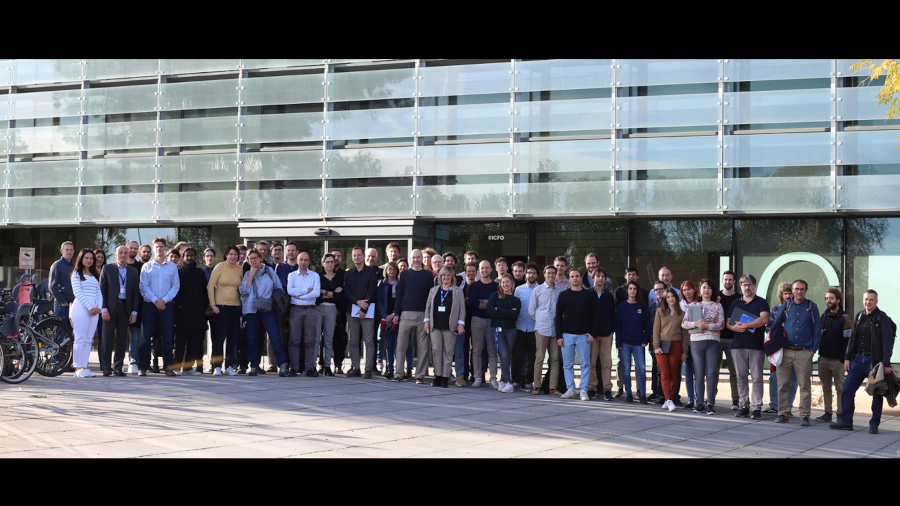 The official inauguration of the European Programme in Research into Quantum Communications, in which the UAB participates alongside five other research institutes from Catalonia, took place on 23 November. The initiative aims to study quantum technologies which can be applied to a future European quantum internet network. The project will receive 15M euros in funding during the next three years, of which 9.7 million come from the EU's Resilience and Recovery Mechanism through the Spanish Ministry for Science and Innovation, and 5.3 million euros from the Government of Catalonia through its Ministry for Research and Universities.
Participants in the European programme include the Institute for Photonic Sciences (ICFO), the Catalan Institute for Nanoscience and Nanotechnology (ICN2), the Institute for High Energy Physics (IFAE), the University of Barcelona (UB), the Universitat Politècnica de Catalunya (UPC) and the Universitat Autònoma de Barcelona (UAB).
Valerio Pruneri, investigador de l'ICFO, líder del Programa europeu de comunicacions quàntiques i coordinador general del projecte Comunicació quàntica, va desgranar els principals objectius. En el transcurs de l'acte es van presentar les línies estratègiques del programa, amb èmfasi en les línies d'actuació que es desenvoluparan en el marc d'aquesta iniciativa en temes de programari i de maquinari. També van esmentar-se els projectes transversals que poden ser els primers passos en la consecució de grans sinergies i futures col·laboracions en l'àmbit europeu.
Els grups d'Informació Quàntica i Òptica Quàntica del Departament de Física de la UAB participen en dues de les quatre línies estratègiques del projecte de comunicacions quàntiques. Tal com explica la investigadora del Departament de Física de la UAB, Anna Sanpera, "desenvoluparem el programari quàntic que permeti millorar les comunicacions amb recursos quàntics. Això implica, per exemple, optimitzar la compressió de dades, millorar les capacitats dels canals quàntics, verificar i certificar quins son els millors recursos quàntics i desenvolupar nous algorismes per garantir una comunicació segura, contribuint així a l'estebliment de la futura wifi quàntica".
La posada en marxa d'aquest projecte és un clar exemple de com està avançant aquesta àrea de coneixement, sobre la qual s'assenten les bases de grans iniciatives europees. És el cas de l'EuroQCI (European Quantum Communications Infrastructure), que té com a propòsit construir una infraestructura de comunicacions quàntiques a Europa, per mitjà tant de connexions quàntiques terrestres com de connexions via satèl·lit, per aconseguir abastar grans distàncies i cobrir tot el continent.
A curt termini, hi ha un gran interès en el món de les telecomunicacions cap a les comunicacions quàntiques, especialment en l'àmbit de la ciberseguretat. Aquest tipus de comunicacions poden oferir una capa de seguretat addicional a la que ja hi ha disponible actualment per tal de transmetre dades i informació de manera segura a través d'internet. L'objectiu final és la implementació de l'anomenada internet quàntica, que connectarà tot tipus de sistemes quàntics, com ara ordinadors, processadors, simuladors i sensors. Això es farà mitjançant una xarxa capaç de distribuir recursos basats en fenòmens rigorosament quàntics, com l'anomenat entrellaçament quàntic, a través d'una xarxa de telecomunicacions convencional reforçada amb elements quàntics.
Objectiu del programa
L'objectiu principal del programa és el desenvolupament de la recerca de conceptes i tecnologies no disponibles comercialment en l'actualitat, tant en comunicacions com en computació, sensors i materials quàntics. S'abordaran diversos tipus de programari i de maquinari capaços d'integrar-se a les xarxes de telecomunicacions. També es buscaran solucions per desplegar tecnologies òptimes per a llargues distàncies. En paral·lel, es treballarà en el desenvolupament de repetidors i de memòries quàntiques per tal d'aconseguir comunicacions quàntiques a través de fibres òptiques amb recorreguts superiors als 100 km, que ara per ara representen un considerable repte científic.
Alhora, s'investigaran noves tecnologies per a la distribució ultraprecisa de senyals de temps i per a la connectivitat de sensors quàntics i de computació quàntica distribuïda, així com l'exploració de les propietats de materials quàntics. En aquestes àrees de coneixement els objectius s'han plantejat a mitjà termini a causa als enormes reptes científics i tecnològics que es plantegen, que requereixen un desenvolupament continu de la recerca.
També s'han establert línies transversals centrades en la formació de personal. És un esforç formatiu que posa un èmfasi especial en la capacitat d'emprenedoria, que juntament amb la creació d'un ecosistema industrial i de nous circuits de difusió i explotació dels resultats, faran efectiva la transferència del coneixement científic i tecnològic del laboratori al mercat, amb un benefici significatiu per a la societat.
Una part important del programa se centrarà en el suport a la transferència de tecnologia i en la consolidació i creació de noves empreses de base tecnològica en l'àmbit de les tecnologies quàntiques, seguint el rastre de les creades en els darrers anys, com Quside, Luxquanta, Qurv i Qilimanjaro, que aspiren a tenir un paper rellevant dins del panorama mundial del sector.
El Programa comunicació quàntica està centrat en projectes de recerca i es desenvoluparà en paral·lel a altres programes finançats principalment per la Comissió Europea, destinats al desplegament gradual de les tecnologies destinades a la construcció de la internet quàntica. La primera fase es desplegarà al llarg de tota la dècada i involucrarà empreses del sector de les infraestructures de telecomunicacions, com Cellnex Telecom, amb un paper de lideratge en el sector terrestre a Catalunya.
/UAB Public Release. This material from the originating organization/author(s) may be of a point-in-time nature, edited for clarity, style and length. The views and opinions expressed are those of the author(s).View in full
here
.