Hollings Cancer Center researchers at the Medical University of South Carolina just received $900,000 in funding for a three-year oncology translational studies program concept from Merck to do a Phase II study that potentially can offer a new treatment for pancreatic cancer patients, a population in desperate need of new treatment options, said one of the leading researchers and surgeon E. Ramsay Camp, M.D.
Camp, who joins forces with Mark Rubinstein, Ph.D., on this study, said it capitalizes on the innovative immunotherapy research happening in Rubinstein's lab. The trial uses neoadjuvant therapy, which is treatment given as a first step to shrink a tumor before the main treatment, for patients with adenocarcinoma of the pancreas who are eligible for surgery.
The neoadjuvant treatment is FOLFIRINOX chemotherapy combined with an immunotherapy drug Pembrolizumab. Patients then have surgery and continue with their immunotherapy treatment. Immunotherapy has not worked effectively in the majority of pancreatic cancer patients in contrast to its revolutionary success in cancers such as melanoma, Camp said. The concept driving the trial is that FOLFIRINOX can alter the tumor making it more amenable for immunotherapy to activate the patient's immune cells.
"It is very fortunate that Merck has an interest in funding trials that, in addition to testing new combinations, allow us the opportunity to investigate the mechanisms of how these combinations may work better," Camp said. "So, this is more than a clinical trial. In my mind, this project will allow our group to study the patient's immune response to therapy – hopefully to understand if this treatment strategy works, and more importantly, how to advance therapy for pancreatic cancer."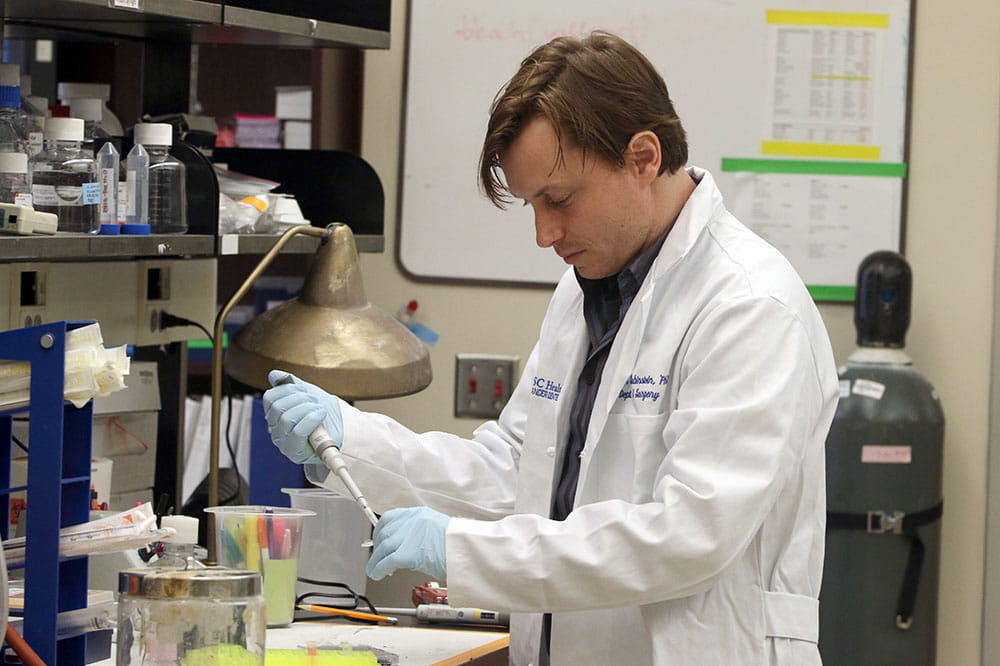 Pancreatic adenocarcinoma is the third leading cause of cancer-related death in the nation. The overall prognosis for all patients remains dismal with less than 10% reaching the five-year survival mark. Camp said he considers pancreatic cancer a systemic disease, even in the earliest stages, and that means there is a need for better treatment strategies to decrease tumor recurrence and improve survival.
What has Rubinstein curious is how immunotherapy has had better results in treating other cancers, such as lung and melanoma. "But unfortunately, in most pancreatic cancer patients, current immunotherapy approaches do not work," Rubinstein said. "We think one of the barriers is that it's more difficult for the immune cells to get into pancreatic tumors. Because chemotherapy may punch holes into the tumor, it may make the immunotherapy more effective in pancreatic cancer."
Camp said he and Rubinstein have collaborated for years and are learning from each other's areas of specialty. "We developed this concept because we are learning that conventional chemotherapies such as FOLFIRINOX can actually change the immune microenvironment to make it more favorable for immunotherapy. Pancreatic cancer is thought to be generally a cold tumor with inactive T-cells. The hope is by using chemotherapy and then sequentially adding in immunotherapy that we can change the tumor to make it likelier to respond to the immunotherapy."
Other benefits of the neoadjuvant approach are that it may downstage the cancer by shrinking the tumors, making the subsequent surgery more successful and side effects better tolerated. Camp said what makes this trial so special is that it incorporates a new treatment approach for pancreatic cancer patients and allows researchers to study the tumors in great detail to understand more completely what and how the therapy attacked the tumor.
"There are a lot of ways chemotherapy may improve the checkpoint immune therapy. It can reduce tumor burden. It may release tumor antigens, making other T-cells more active. It may destroy some of the inhibitory or suppressive immune population – all of this needs to be investigated," he said. "I think Merck recognizes the importance of this and is really supporting our group not only to do the trial but to do the science behind the trial to advance therapeutic options. Mark is willing to lead that part of the program. I think we're the perfect team to do this."
Rubinstein agrees. "I feel incredibly lucky to be working with Ramsay and the broader team on this project. Ramsay has amazing vision, scientific knowledge and talent for integrating clinical and laboratory science. I think this project brings out the synergy from both of our backgrounds and research programs."
"Surgery is a lot for a patient to recover from, and too many patients still succumb to their disease. So, in my mind, we have to search for better therapies. At the end of the day, we really hope that this improves survival of our patients."

– Dr. Ramsay Camp
An important part of the project will be to do the immune correlative studies. "There have been a lot of immunotherapy studies but one of the real difficulties is understanding why this therapy sometimes works and how to make it better," Rubinstein said.
Because the study involves the surgical removal of the patient's tumor after immunotherapy begins, it gives the researchers the unique ability to study the impact of therapy on the immune cells in the tumor.
"In the laboratory, we have the ability to study the tumor tissues in incredible depth, using cutting-edge techniques, to figure out how the immune system is functioning. Is the treatment helping the immune cells reach the tumor? Is there evidence that the immune system is killing tumor cells? Ultimately, these studies will help us understand why patients may be benefiting from the therapy but also how we can develop the next generation of therapies as well."
Rubinstein compares it to starting a lawnmower. "Once properly started, the immune system can mediate effective and long-lasting effects against cancer cells. In some cancers, the initiating event has proved relatively easy. However, pancreatic cancer appears much more resistant to immunotherapy," he said. "In this case, the analogy might be starting an old lawnmower that is resistant to starting. However, if successfully started, this seemingly old engine may work very effectively. In a similar manner, if we can get the immune system initiated, we think the therapeutic impact may begin to snowball, and this will be beneficial for patients."
Camp said Hollings Cancer Center will be the single site for the trial, which should open in the next six months. They will be enrolling 30 patients. As a surgical oncologist, Camp said he needs more effective treatment options for his patients that can work hand in hand with surgery to fight their cancer.
"Surgery is a lot for a patient to recover from, and too many patients still succumb to their disease. So, in my mind, we have to search for better therapies. At the end of the day, we really hope that this improves survival of our patients."
/Uni Release. This material comes from the originating organization and may be of a point-in-time nature, edited for clarity, style and length. View in full
here
.