Researchers from MUSC Hollings Cancer Center are embarking on a Phase II clinical trial to test a combination of drugs in treating mantle cell lymphoma, potentially prolonging remission for patients with this rare disease.
The trial will examine the safety and efficacy of the combination of bendamustine, obinutuzumab and venetoclax – all of which are drugs that are Food and Drug Administration approved for treatment but are considered investigational when used together.
Bendamustine, a chemotherapeutic agent, and venetoclax, a targeted therapy drug, work in different ways to halt the growth of cancer cells by damaging the lymphoma cells and promoting lymphoma cell death, respectively. Obinutuzumab is an immunotherapy drug that targets a protein expressed on the surface of B-cells, from which B-cell non-Hodgkin's lymphomas, such as mantle cell lymphoma, originate.
Brian Greenwell, M.D., assistant professor in the Division of Hematology/Oncology at the Medical University of South Carolina (MUSC) and the principal investigator for Hollings' portion of the trial, explained that mantle cell lymphoma is an uncommon form of B-cell non-Hodgkin's lymphoma, making up only about 5% of all non-Hodgkin's lymphoma cases. It is most commonly found in older adults, with the average age of diagnosis being 65 years.
While a combination of chemotherapy and immunotherapy has been considered the standard of care for mantle cell lymphoma for nearly a decade, adding in novel drugs such as venetoclax, which works on special pathways within B-cells, may help extend periods of remission, he said.
A 'frustrating' lymphoma
Although mantle cell lymphoma is defined by the overexpression of a protein called cyclin D1 caused by a translocation of two genes, it has a variety of presentations, ranging from less active to aggressive.
"Classically, mantle cell lymphoma was described as one of the most frustrating lymphomas because it has the bad characteristics of lower-grade, less aggressive lymphomas in that you don't typically cure it, but unfortunately, it also has the bad characteristics of aggressive lymphomas in that it is progressive and rapid growing. It was thought to be both aggressive and incurable, which is a unique combination in lymphoma," Greenwell said.
"However, more recently we have learned that not all cases appear both aggressive and incurable. While we may categorize somebody with a B-cell lymphoma that overexpresses cyclin D1 as mantle cell lymphoma, I've had patients who can go five years just on active observation without treatment, and then there are patients who, immediately at diagnosis, are admitted to the hospital to start treatment because their disease is so aggressive. Mantle cell lymphoma is probably a group of several different cyclin D1-expressing lymphomas that we're still learning to categorize accurately."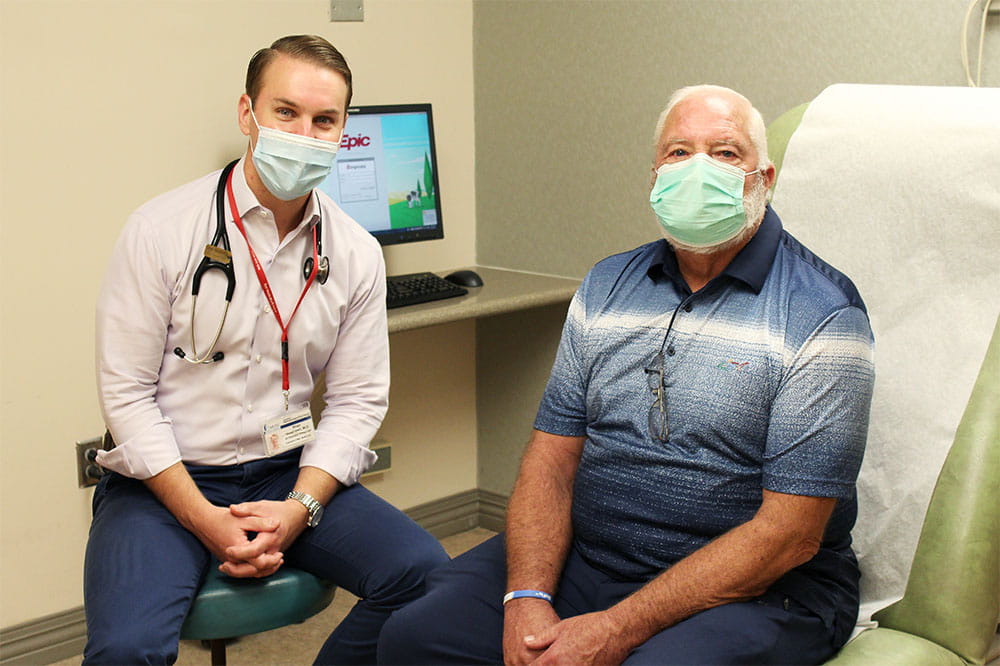 Aside from bendamustine-based chemoimmunotherapy, current treatment options include high-dose cytarabine-based induction chemotherapy and autologous stem cell transplant consolidation, which is a more intensive treatment better suited for younger patients who are more likely to tolerate it. Unfortunately, none of these treatments are curative, and the average length of remission after initial treatment is around three years with current bendamustine-based chemoimmunotherapy.
"Usually that first remission is going to be your longest and most durable remission, so subsequent remissions with subsequent therapies are, in general, going to be shorter and shorter. But, some of the newer agents, such as venetoclax, have really changed how patients do with relapsed and refractory disease," said Greenwell. "This trial offers an exciting new regimen that we hope will extend the time that a patient is living without lymphoma."
The idea of this drug combination providing extra time to enjoy life is what drove Samuel Jackson, the first patient enrolled in the trial at Hollings, to participate.
"The reason I decided to go with Hollings Cancer Center's trial for mantle B-cell lymphoma was due to gaining six years extra versus three, a total of nine possible," said Jackson. "I had heard great things about Dr. Greenwell and the study he was offering. Dr. Greenwell discussed the trial completely with my wife and me. He answered all questions we had. His staff also met with us and discussed their role. He made a point that my health is first priority. I can only hope and pray others would take advantage of this trial."
Targeting high-risk populations
The idea to combine these three drugs through an investigator-initiated trial was developed by Greenwell and Jonathon Cohen, M.D., a researcher at Emory University, during conversations about populations at high risk of treatment failure and the use of novel agents in the front-line setting.
The researchers plan to include a high-risk group of patients who have a mutation in a gene called TP53, which makes them less likely to respond to treatment and often means the length of time they'll have in remission will be shorter. The researchers hope that bringing these novel agents into induction therapy will help to change that outlook and the high rates of therapeutic failure in these patients.
The trial will also enroll patients who would normally be treated with a standard combination of chemotherapy and immunotherapy.
To be eligible for the trial, patients must not yet have received any treatment for their mantle cell lymphoma. The researchers hope to enroll 30 patients across three sites – Hollings, Emory University and The Ohio State University – over the course of two to three years.
Patients will receive the drug combination in treatment cycles for up to six months and then will be followed after treatment to assess whether they are in complete remission without any evidence of lymphoma on traditional scans or evaluation. The researchers also will look at the length of time patients live without evidence of the disease progressing or returning as a secondary outcome measure.
Additionally, they'll collaborate with a lab at Stanford University to look at a factor known as minimal residual disease, which uses advanced techniques to search for traces of the disease that may still exist but that can't be detected by traditional scans.
Tapping into expertise
Greenwell believes that trials like these are possible because of the expansive resources readily available at Hollings Cancer Center and MUSC. For example, the MUSC pathology lab has the tools needed to complete TP53 sequencing onsite to determine whether patients may be at higher risk of therapeutic failure. Not having to send samples outside of MUSC for sequencing means quicker answers for patients and their providers.
"Having a National Cancer Institute-designated cancer center with such expertise, great outcomes and such a developed and long-standing bone marrow transplant and cellular therapy program makes my life much easier when it comes to taking care of patients," said Greenwell.
"Having a National Cancer Institute-designated cancer center with such expertise, great outcomes and such a developed and long-standing bone marrow transplant and cellular therapy program makes my life much easier when it comes to taking care of patients."

– Dr. Brian Greenwell
While treatment can sometimes be done closer to home, Greenwell recommends patients consider an initial consultation at a research institution like Hollings to determine the best treatment course.
"Since mantle cell lymphoma is uncommon, and there are nuances like making sure you test for a TP53 mutation, it's always a good idea to get a second opinion," Greenwell advised.
This trial is supported by funding from Genentech Inc., and the Lymphoma Research Foundation.
/Uni Release. This material comes from the originating organization and may be of a point-in-time nature, edited for clarity, style and length. View in full
here
.