Researchers and young radiotherapy patients united in a series of workshops to learn more about researchers and patients
A collaborative project led by King's College London School of Biomedical Engineering & Imaging Sciences, CRUK RadNet City of London, and Centre of the Cell, brought together a group of young radiotherapy patients in a series of workshops with biomedical researchers across London to better understand patient experiences of cancer and treatment.
The ten young adults, aged 17-25, had a range of different cancer diagnoses: some were diagnosed as young as 12, others during the Covid-19 pandemic, but all had radiotherapy as part of their treatment.
They were brought together through three workshops and focus groups to not only relay their insights on the cancer treatment pathway, but also better understand the work and processes of researchers who had a background in biology, physics and radiation biology.
The researchers and young adults had already established a relationship prior to the first which workshop encouraged them to share experiences with the researchers and with their peers. There was also a presentation about cancer and its treatment by Myfanwy-Cerys Williams, Learning Officer, Centre of the Cell.
The researchers gained an understanding of patient experiences of cancer and treatment; this session affected all very personally. The project also aimed to produce a resource to help future patients.
For most young adults, this was the first time they had been able to speak to people of a similar age who had been through cancer and treatment. Some said they did not previously have the support they needed and were not able to share what was important to them and what they thought about treatment.
The participants shared experiences of being young and diagnosed with cancer, of their radiotherapy treatment, the side effects they had experienced and their worries about other late effects. They spoke about measures they had taken to protect their future fertility.
When I was in the hospital, I was quite isolated; like, I couldn't speak to other kids who had cancer. Especially with radiotherapy. I think I probably seen about one, one or two other people around my age the whole five weeks that I went to treatment. And I went in every day, which is quite isolating. Just being able to connect to other people who have been through the same thing and get it I think is so important.– Radiation Reveal project participant
The second session was designed for the researchers to give an overview of their work, and to share with the participants what a day in the life of a researcher is like as well as an overview of their personal journey to becoming researchers. A clinician also took part to explain how research is translated into patient care.
I think often as pre-clinical researchers we can get so involved in the science that we forget that the work we are doing will one day influence patient treatment. Being a part of radiation reveal really opened my eyes to how important it us for researchers to still have contact with patients so we can gain a full understanding of where the gaps in treatment are and where the work we are doing can provide the greatest benefit to those undergoing treatment.– Sophie Langdon , Phd student, School of Biomedical Engineering & Imaging Sciences
It felt like it broke down the barrier between the experts on one side and the experts on the other.– Radiation Reveal project participant
The final session saw participants sharing ideas on how to better help young people undergoing cancer treatment in the future. After the session, four of the young adults visited Centre of the Cell with project manager Dr Lisa Whittaker for a digital interactive STEMPod show.
They had many ideas such as a QR code on an information postcard, instead of leaflet, with details created as an infographic rather than text and then came up with ten tips for healthcare professionals involved in radiotherapy:
Fully explain side effects
Check up on how a patient's skin is doing, ask if it's sore. Think about things to help with claustrophobia
Sometimes people might need a break, for example if they've just had chemo. If possible, arrange treatment at the same time each day
Explain what's going to happen and why so young people fully understand, don't just talk to parents
For radioactive iodine treatment – let patients see the room before their treatment starts so they know what to expect
Everyone should have access to good information and treatment no matter where in the country they live
Ask about peer support
Remember that we're young people first and patients second
Radiation Reveal is an excellent example of the benefits of bringing patients and researchers together as both get to learn more about experiences as a researcher and experiences as a patient. By understanding each other's backgrounds more, we can identify better ways forward. There have been so many positive outcomes from the project but most of all it's been great to see the young people support each other and form lasting friendship.– Dr Lisa Whittaker, Project coordinator and Public and Patient Engagement Coordinator at the School of Biomedical Engineering & Imaging Sciences
The young participants continue to be in touch with each other since the project's initiation in March and many have kept in touch with the researchers.
The project didn't just finish in March, but the effects of it go on today.– Dr Lisa Whittaker, Project coordinator and Public and Patient Engagement Coordinator at the School of Biomedical Engineering & Imaging Sciences
Other outputs so far:
BBC breakfast interview with 1 of participants
Lab tour at QMUL
A presentation to TYA Cancer Service at Guy's Hospital, March 2022
A conference presentation at Oncology Professional Care, 24 May 2022
Further discussions with young people and researchers Dr Jamie Dean and Dr Sam Terry to shape their research
Original workshop design, padlet creation for each session and public engagement training by Myfanwy-Cerys Williams, Learning Officer, Centre of the Cell.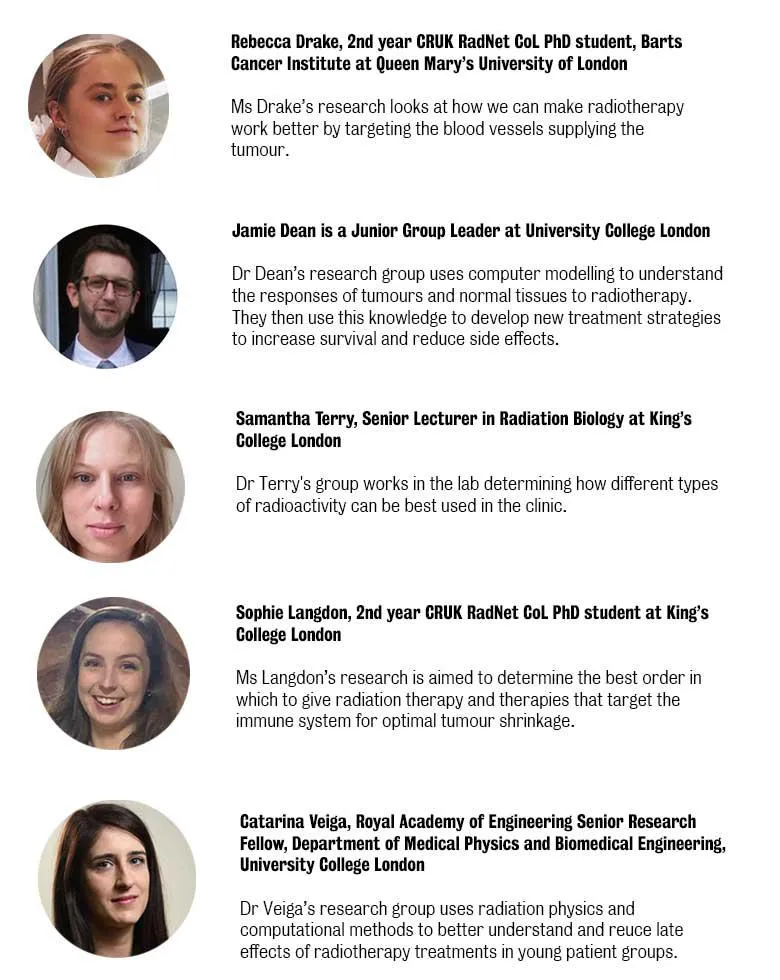 /Public Release. This material from the originating organization/author(s) may be of a point-in-time nature, edited for clarity, style and length. The views and opinions expressed are those of the author(s).View in full
here
.