Shikhar Mehrotra, Ph.D., and Sophie Paczesny, M.D., Ph.D., have been named co-leaders of the Cancer Immunology program at Hollings Cancer Center at the Medical University of South Carolina.
Mehrotra's appointment began March 2. The associate professor in MUSC's Department of Surgery in the College of Medicine replaces Chrystal Paulos, Ph.D., who has been program co-leader since 2017.
Paczesny's appointment begins July 1. She'll be replacing David Neskey, M.D., who has served as interim program co-leader since March 2019. She'll also serve as chairwoman of the Department of Microbiology and Immunology in MUSC's College of Medicine. Paczesny currently holds joint appointments in pediatrics and basic science-microbiology and immunology-at Indiana University School of Medicine.
"These two leaders bring a wealth of talent and expertise to lead Hollings into a new decade that promises to have exciting discoveries in how immune cells are compromised in tumor environments and how such findings can be translated to new therapies," said Hollings Cancer Center interim director Denis Guttridge, Ph.D., about the appointments.
"We are very appreciative of the leadership that Drs. Paulos and Neskey brought to our Cancer Immunology program, who expanded the breadth and depth of T-cell biology in the laboratories and in clinical trials from all the members within their program."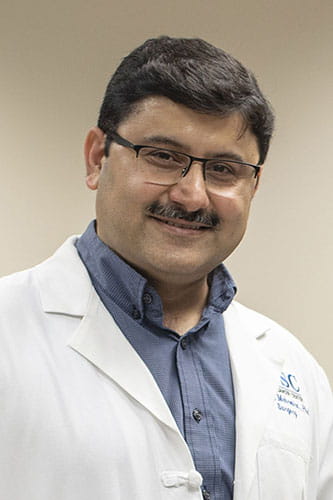 Shikhar Mehrotra
Mehrotra, who has been with the cancer center since 2006, focuses his research on understanding T-cell signaling and metabolic pathways to improve strategies for cancer immunotherapy. He is also the scientific director of the Foundation of the Accreditation of Cellular Therapy-accredited clean cell therapy unit. Mehrotra will be appointed to the Cecilia and Vincent Peng Endowed Chair in Melanoma and Cutaneous Oncology pending approval by the MUSC Board of Trustees.
He said he plans to reach out at the local and national levels to increase awareness of the important cutting-edge developments being pursued at the cancer center. He also plans to engage industry and community sponsors to take immunotherapy research further.
"We have wonderful members in the Cancer Immunology program who have diverse research approaches to combat cancer," Mehrotra said. "I am excitingly looking forward to working with them to ensure that their individual goals could be successfully aligned with the overall goal and mission of Hollings."
That includes nurturing collaborations among Hollings' four research programs to move novel and innovative ideas forward. "A concerted, multi-disciplinary effort is needed in understanding the immunological basis of the many approaches being pursued in cancer biology and in developing novel cancer therapeutics for cancer control so we can translate our findings for patients."
Despite recent advances in cancer immunotherapy, much work remains to overcome constraints that keep researchers from maximizing its use, he said.
"While on one hand, the effort will be to address those issues in the research labs. On the other hand, the collective effort will be to open new clinical trials using different approaches whether developed at MUSC or elsewhere," he said. "The overall objective will be to ensure that the best experimental therapeutics or novel immunotherapy trials are available at Hollings for treating cancer patients in South Carolina by actively engaging both basic scientists and clinicians."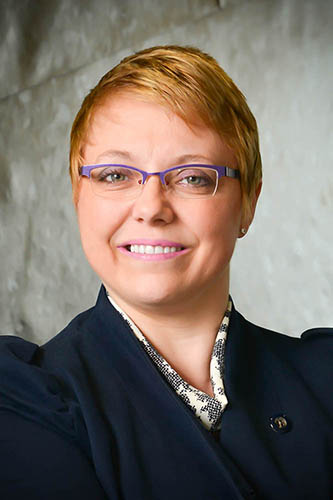 Sophie Paczesny
Looking forward to joining Hollings' team, Paczesny said she's excited that Hollings has a Good Manufacturing Practice (GMP) facility, facilitating the development of novel cellular therapies. Her primary research interest is in allogeneic hematopoietic cell transplantation, which is one of the first cellular therapies and remains the only curative therapy for acute myeloid leukemia. Paczesny will be appointed to the Cancer Stem Cell SmartState – Sally Abney Rose Endowed Chair in Stem Cell Biology and Therapy, pending approval by the MUSC Board of Trustees.
"Cancer immunotherapy is making headlines and generating excitement among biomedical researchers, clinicians, patients and their families and research advocates," Paczesny said. "I have been impressed by Hollings Cancer Center's great science and collaborative spirit."
Paczesny received her doctorate and medical degree from Paris University in France, where she completed her residency and fellowship in pediatric hematology/oncology and bone marrow transplantation. In addition to her joint appointments at Indiana University School of Medicine, she also is the Nora Letzter Endowed Chair of Pediatrics.
She is a member and counselor for the American Society for Clinical Investigation, co-chairperson for both the Center for International Blood and Marrow Transplant immunobiology working group and the American Society of Hematology task force on immunotherapies.
Other areas of her research include developing and translating biomarkers for the outcomes following allogeneic hematopoietic stem cell transplantation (HCT); discovering inhibitors of drug targetable biomarkers for HCT patients; finding novel therapies to treat graft-versus-host disease and improve graft-versus-leukemia reactions, including cellular therapies; and exploring the Alarmin Interleukin-33/ST2 signaling pathway as a novel immune checkpoint in myeloid malignancies and other cancers.
Paczesny said she wants to continue to build a strong tumor immunology program at Hollings and develop immune cell engineering and new cellular therapy trials in collaboration with her clinical colleagues. She believes the COVID-19 pandemic challenge will help medical professionals better understand immunological responses to the virus and possibly lead to new treatments for cancer patients.
"Immunology is at the cornerstone of several major diseases, and immune cells are plastic and easy to manipulate ex vivo or in vivo by accelerating or braking the pathways they regulate," Paczesny said. "Cancer patients have benefited from these breakthroughs in immunology and will continue to do so as new science in this era is moving forward."
/Uni Release. This material comes from the originating organization and may be of a point-in-time nature, edited for clarity, style and length. View in full
here
.