A clinical trial at MUSC Hollings Cancer Center is being hailed as a game changer by doctors for certain leukemia and myelodysplastic syndrome (MDS) patients. The trial, which utilizes a medicine called AG-120, sold under the brand name Tibsovo, gives patients with few other treatment options new hope for a better life and possible remission.
James Deer, 62, is a self-described workaholic and family man. But after falling ill in 2018, dreams of continuing his lawn care business and playing outside with his three grandchildren were no longer realistic.
"It was very stressful. I was trying to work and provide for my family," Deer said. "It was a tough time in my life, no doubt about it."
Deer began noticing something wasn't right after experiencing severe pain in his joints in the early part of 2018.
"Being in a lawn care business and working outside every day, it's pretty easy to tell if something is wrong," he said. "I went to my primary care physician, and he sent me to an arthritis doctor in Orangeburg, South Carolina."
Deer was prescribed medication for arthritis and began having routine blood work done. It was during one of those blood tests that doctors discovered something wasn't right. He was sent to an oncologist near his home in Ulmer, South Carolina, before being referred to Robert Stuart, M.D., at Hollings.
"I thought I had arthritis and was going to get treated for that. Cancer was the furthest thing from my mind. When you hear that you need to go get more blood tests, the anxiety and worry start to kick in."
Further blood tests would confirm his worst fear – at the age of 59, Deer was diagnosed with a rare form of bone marrow failure called MDS, a disease with few treatment options.
A shot at remission
For MDS patients, the only approved therapy that is potentially disease altering is a chemotherapy that uses a hypomethylating agent, which aims to activate certain genes in a cell to encourage maturity.
After being hospitalized at MUSC in January, February and April of 2020 for infections and illnesses due to extremely low levels of neutrophils, a type of white blood cell essential to the immune system, Deer began receiving chemotherapy for his MDS.
"After the second or third round, my white blood cell count shot up, and I thought 'Maybe this is going to work,'" Deer said. "Then the next week the numbers went right back down, and it was kind of like a balloon – you pop it and feel deflated."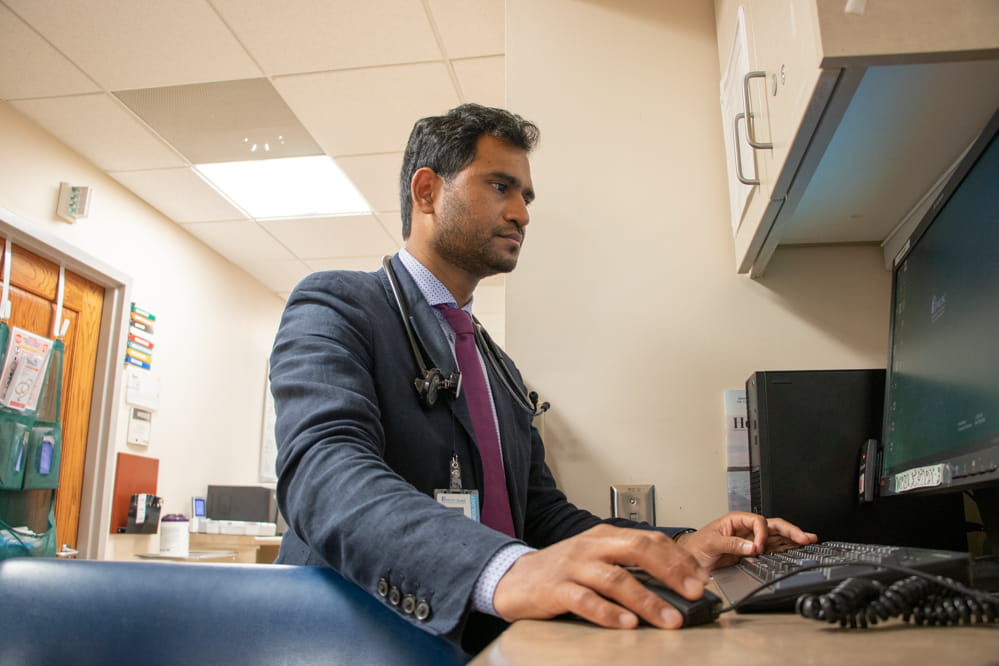 After receiving four rounds of chemotherapy and only having a partial response, Stuart encouraged Deer to take part in a phase one clinical trial at Hollings led by Praneeth Baratam, M.D., a Hollings researcher specializing in hematology and oncology.
Deer weighed his options. "I said, 'Well you've got to do what you've got to do.' God uses a lot of different things to get you where you need to be,'" Deer said. "Whether or not it worked for me, I knew this trial could help other people in the future."
Baratam's trial is open to certain leukemia and MDS patients with a mutation of the isocitrate dehydrogenase (IDH1) enzyme, which is present in 6% to 16% of acute myeloid leukemia (AML) patients and less than 5% of MDS patients. AG-120 is currently FDA approved for use in a subset of AML patients with IDH1 mutations but not in MDS patients. Baratam said he hopes the trial will bring FDA approval for MDS patients with the mutation as well.
Baratam explained that the IDH1 enzyme is an essential part in energy processing inside of a cell. "Patients who have an IDH1 enzyme mutation produce an excess of a different chemical that causes DNA to go inactive. That inactivity of DNA leads to what we call a maturation defect of the stem cells. The mother cells in the bone marrow divide and make new blood cells, but when their DNA goes inactive, those cells don't mature anymore."
Hollings is one of more than 30 research sites across the country studying how AG-120 affects IDH1 mutations in leukemia and MDS patients. Two leukemia patients have enrolled in the Hollings trial, along with Deer, who is the only MDS patient enrolled so far.
Participating patients take two AG-120 pills in the morning and return to Hollings once a month for a bone marrow draw. Since enrolling in the trial, Deer has made a dramatic turnaround.
"Deer achieved what we would call a complete response," Baratam said. "A complete response is where his bone marrow shows no signs of MDS. There is no more dysplasia in his bone marrow, and all of his blood counts have returned to normal after starting this trial. That is really the best possible outcome of a therapeutic strategy in MDS."
While there are questions around how durable the AG-120 treatment is, both Baratam and Deer are pleased with the initial results. Baratam said patients have experienced minor side effects with the drug, with some developing an inflammatory condition called differentiation syndrome.
Even with the possible side effects, Baratam said it beats the alternative of a bone marrow transplant.
"Patients come to MUSC Hollings looking for clinical trial options," he said, adding that he would like to enroll another three to five patients in this trial at Hollings. "The ability to offer this trial is invaluable in my opinion, both to the development of Hollings and to the patient."
Deer said he hopes the success he is seeing in the clinical trial encourages other patients who are eligible to enroll to do so. He said he feels as if he has his life back and is grateful for the work of researchers and doctors at Hollings.
"This experience and the results have been invaluable," he said. "I have to drive to MUSC once a month, but that is nothing compared to the results I'm seeing. It means a lot to me to have the doctors at Hollings because I know that I can trust them."
/Uni Release. This material comes from the originating organization/author(s)and may be of a point-in-time nature, edited for clarity, style and length. The views and opinions expressed are those of the author(s).View in full
here
.